Welcome to the farm Obermairhof in San Giacomo in Valle Aurina,
your home in the mountains!
Since many years, our guests spend pleasant holidays and enjoy their farm vacation in the heart of the South Tyrolean mountains. As a family business, we work at our farm and offer young and adult visitors marvellous South Tyrolean holidays in our four beautiful holiday apartments in Aurina Valley. We, the Obermair family, Josef and Tanja with the children Madlen and Hannes and our parents, manage the farm, the holiday apartments, and the alpine pasture in Austria together as a real family business. With the range of services in the holiday apartment Valle Aurina you will discover the lovely alpine landscape and personally experience the rural family life on the farm Obermairhof.
Special features of your
holiday apartment Valle Aurina
As a solo traveller, a couple, or parents with children – would you like to simply slow down during your next holiday in South Tyrol? Then book a relaxing holiday at the farm Obermairhof. During a stay at our farm Obermairhof, your children will get an insight into our livestock and dairy farming, as well as into everyday farming life in South Tyrol.
Our animals spend the summer on our private alpine pasture in Austria, in the Krimmler Achental in Salzburg's Pinzgau. In the morning you are greeted by a magnificent view of the valley below St. Jakob or to the end of the valley with the 3,499m peak Dreiherrenspitze from your holiday apartment in Aurina Valley. The panorama on Mount Klausberg, the Aurina Valley Ski Area and the many mountains and alpine pastures is unique in every season. If you simply want to spend a day at the farm, you may have a BBQ, use the children's playground or the lawn. Are you drawn to day trips starting from the holiday apartment to Aurina Valley? Then hikes or bike rentals are available. We will be happy to organize this for you on request. Certified bike and hiking guides are available for guided bike tours or hikes in our beautiful mountains.
Room facilities and farm amenities
on the farm Obermairhof
In 2001 we lovingly converted four private rooms into holiday rooms. Each room at the farm Obermairhof welcomes you with comfortable furnishings. Our holiday apartments in South Tyrol, "Morgentau", "Regenbogen", "Sonnenschein" and "Abendrot" can accommodate four or four to five persons – for your perfect feel-good holiday in our holiday apartments in Aurina Valley, the following is included:
Balcony with fabulous panoramic views
Internet connection (WLAN) and private access to the garden
Eat-in kitchen with kitchenette and modern technical equipment, dishwasher
Living room and sofa bed (not available in the room "Sonnenschein")
The apartments "Abendrot", "Morgentau" and "Sonnenschein" also offer a traditionalSouth Tyroleantiled stove with sitting and relaxing area
TV and sitting area
Clean bathroom with shower, sink and toilet (the apartment "Regenbogen" also offers a bidet)
On request, fresh breakfast rolls, croissants, fresh milk, eggs, etc.
The Agency for Environment (17.12.2004) has awarded our apartments with the certificate "well tolerated by people with allergies and environmentally sensitive people".
Furthermore, in the holiday apartment Aurina Valley you may use a storage and ski room. We also provide kitchenware, bed linen and towels.
What guests say about us…
Stefan Zangerl
Super nice apartments with great facilities and perfectly clean! The Obermair family is more than hospitable.
– via Google reviews –
Juliana Carvalho
Idyllic place! Wonderful unspoilt village – from the apartment the view could not be more beautiful: on the village square and the church of San Giacomo. We spent a wonderful week at the Obermairhof!
– via Google reviews –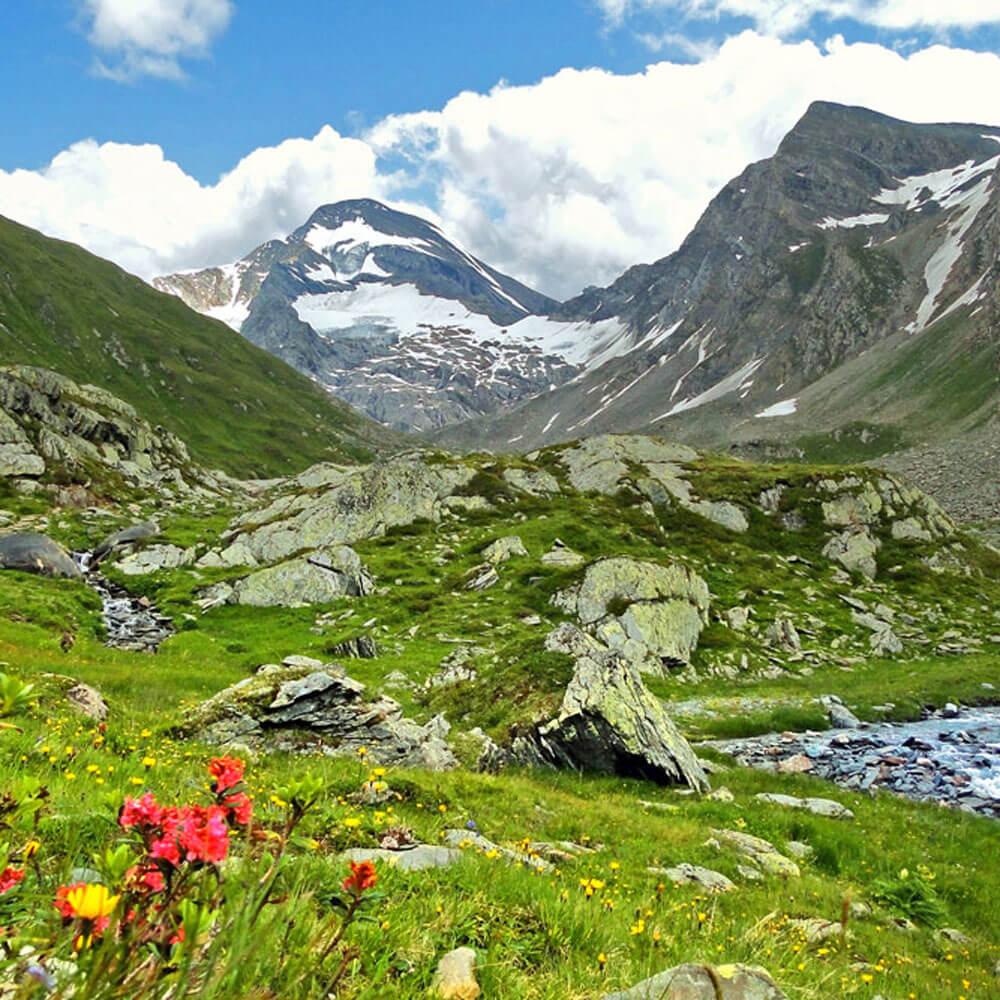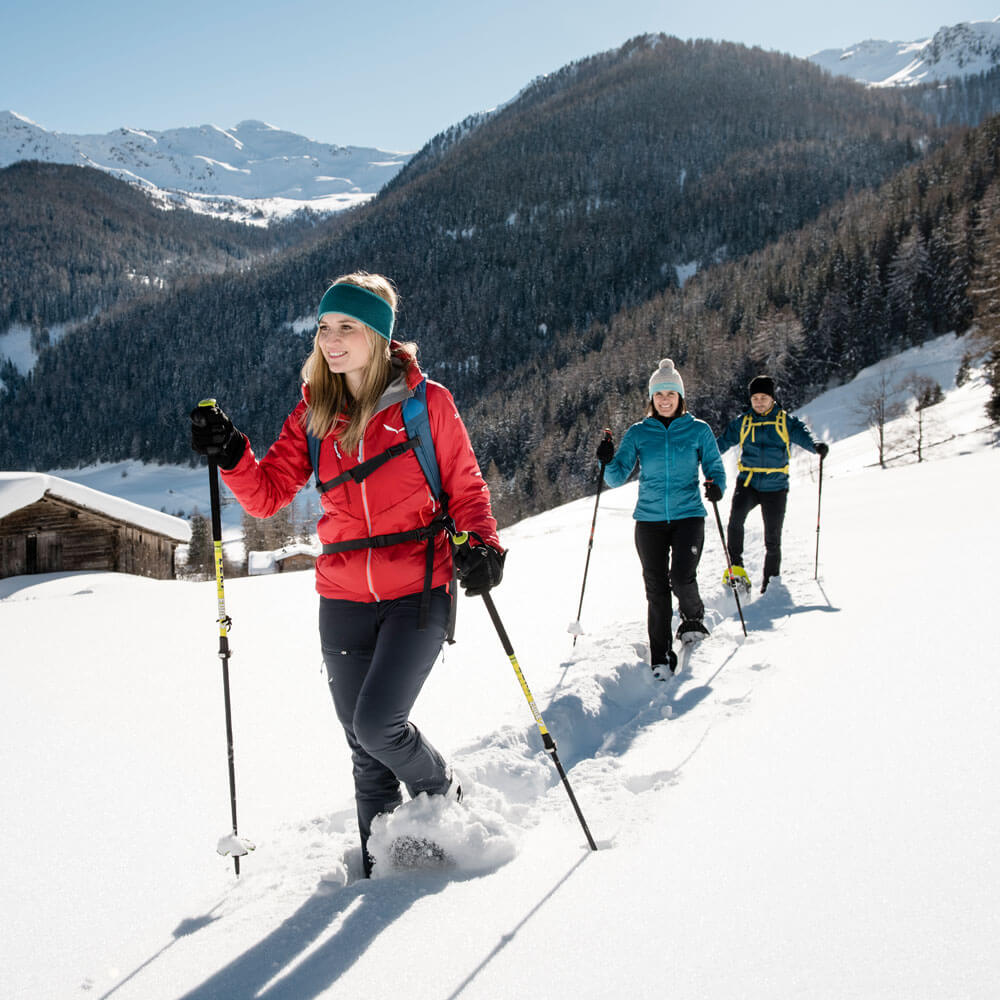 Advantages of your vacation in Valle Aurina
in every season
Whenever you book an apartment in one of our themed rooms at the farm Obermairhof, you will experience pure nature with many opportunities for activities at the farm, in St. Jakob or the scenic surroundings. Only 4 kilometres from the farm you can reach the Skiarena Klausberg. The property owner Josef is a ski instructor, and Tanja's father is a ski and snowboard instructor at the KLAUSBERG ski school. Skis and accessories can be rented from the Skihaus Sporting with pub. If you would like to experience culture, we recommend a visit to the neighbouring local mining museum or a trip to Tures Castle from your holiday apartment in Valle Aurina. Upon request, you may also participate in our everyday life on the farm Obermairhof.